Alrighty!! In light of Karen's novella coming out, I thought that I needed to have another Epic Face-Off!!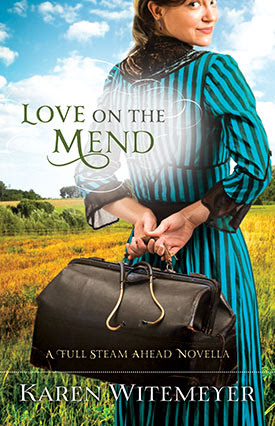 Just in case you are new to the blog, these are the rules. I ask Karen some random questions. She replies and then I give my answers. Each winning answer is worth one point and I get to decide whose answer is better.
It's my blog.
So, here it goes: *drumroll, if you please*
1. What is your favorite time of history? Is it the Wild West? I am guessing by the books you write.
Karen: I love anything in the late 19th century, usually 1870's to turn of the century. However, I also love books set in Regency/Victorian England as well as medieval Scotland. There's just something so romantic about those big dresses.
Charity: Wow, that's a lot of different "times". I believe the question was singular (; Although, I have to admit I like the Regency era (as I'm in the Regency Society of Virginia), old English history and American history (as I was a drummer in the Yorktown Fife and Drum Corp for many of my adolescent years). So, I fail in this area as well. I guess we are history nerds!
— nada
Charity 0 / Karen 0
2. Any ancestors do something cool like go on the gold rush, fight in the Civil War, etc…
Karen: I'd like to imagine so, but I'd afraid I haven't traced back the branches of the family tree to find out.
Charity: Well, well, well. Looky here! I had a great (many times over) grandfather that was an officer in the Revolutionary War, another in the Civil War, AND, my actual Grandma moved out west IN A WAGON TRAIN!!!
— Total annihilation!
Charity 1 / Karen 0
3. Crockpot or Gourmet?
Karen: What? Take-out is not a choice? Ha! Definitely Crockpot. I'm all about keeping it simple. I love comfort food. Besides, I have three teenagers at home who tend to be a bit picky when it comes to dinner options.
Charity: Ok, I actually did the whole LOL (like a real laugh out loud) when you said that there was no fast food option. I love to cook and bake. However, I rarely feel well enough to do any cooking, so my 15 year old son has turned into an amazing chef over the years. In fact, just yesterday he told me that he could tell I liked the Regency Era because that's how I live my life (reading, sewing and sitting around). ha ha ha ha ha. He had a huge smile on his face and was not in any way being snarky. He said he wanted to cheer me up. It worked.
— I guess that was a totally easy call. Mom that cooks AND cooks for picky eaters.
Charity 1 / Karen 1
4. Favorite type of exercise (yoga, running, walking with the walker lady on the DVD, …)
Karen: Lately, I've been trying to up my walking to jogging. I do it on a treadmill while I watch shows on my phone. I have an Amazon instant video account, and I'm about halfway through season 2 of Larkrise to Candleford, a BBC historical drama that I'm absolutely loving!
Charity: Need I remind you about the whole "Regency lifestyle"? That being said, I can't even run to the end of our street and we live on the corner!! (Larkrise is a great show!)
— There isn't one iota of chance I was winning that question.
Charity 1/ Karen 2
5. Are the names of your characters names that you love and got vetoed as children's names by your husband?
Karen: Ha! No. In fact, my poor hubby is the one who got vetoed. He gave in to my pick for a girl's name for our first child (Bethany Rose) on the condition that our next girl would get his choice (Sarah Grace). Well, we had two boys after that and then we stopped having children. Poor man. I choose my character names in a couple different ways. First, I love using biblical names. You'll see that a lot. Second, I'll often go to the social security website to search for the most popular baby names from certain years. Their database goes all the way back to 1880. It's a great source for historically accurate names.
Charity: ha ha. Well, that was very gentlemanly of him. And using the historical database is very clever of you! Having no books under my belt, I can't really answer this except to say that IF I DID write a book, I would totally have to do that so I could have a child with the names I love. You know, figuratively and all.
— Why did I pick questions I couldn't even win with!? What in the world…
Charity 1 / Karen 3
6. Favorite guilty movie/book series (ie: Twilight)
Karen: I love old Hollywood musicals like Seven Brides for Seven Brothers, Sound of Music, Singing in the Rain, Summer Stock, etc. I also adore Disney movies. Enchanted is one of my favorites because it has that musical feel while having some tongue-in-cheek fun with the classic fairy tale storyline.
Charity: Ah, yes. I do love those movies too. Although, I have never heard of Summer Stock. I do admit that I love the dystopian movies that are so prevalent now. Hunger Games, The Giver, Mazerunner, Twilight (not exactly dystopian), Divergent, etc… I love Hallmark romance movies. COMPLETELY cheesy, but always clean and bright and colorful. I also love extremely bloody movies. ha. I guess that's part of being the only girl in a four person family. (At least I am the Queen Bee!!)
— No clear winner, I suppose
Charity 1 / Karen 3
7. Favorite Bible verse
Karen: I have many, but the two that I keep at hand while I'm writing are:
He who began a good work in you will carry it on to completion until the day of Christ Jesus. ~Philippians 1:6
No to us, O Lord, not to us, but to your name give glory. ~Psalm 115:1
Charity: I have a few also:
"Rejoice in the Lord always; again I will say, rejoice! Let your gentle spirit be known to all men. The Lord is near. Be anxious for nothing, but in everything by prayer and supplication with thanksgiving let your requests be made known to God. And the peace of God, which surpasses all comprehension, will guard your hearts and your minds in Christ Jesus. Finally, brethren, whatever is true, whatever is honorable, whatever is right, whatever is pure, whatever is lovely, whatever is of good repute, if there is any excellence and if anything worthy of praise, dwell on these things. The things you have learned and received and heard and seen in me, practice these things, and the God of peace will be with you." Phil 4:4-9

"Consider it all joy, my brethren, when you encounter various trials, knowing that the testing of your faith produces endurance. And let endurance have its perfect result, so that you may be perfect and complete, lacking in nothing. But if any of you lacks wisdom, let him ask of God, who gives to all generously and without reproach, and it will be given to him." James 1:2-5

"I've thrown myself headlong into your arms—
    I'm celebrating your rescue.
I'm singing at the top of my lungs,
    I'm so full of answered prayers." Psalm 13:5,6 (The Message Version just gets that one right!)
— Who can win with that? It's all the best!
Charity 1 / Karen 3
8. Lastly, one thing you would save from your house in case of fire (family doesn't count!!) and (knock on wood).
Karen: Baby photo albums from my kids, and if I had time, the framed cross-stitch art from my walls (I'm an avid stitcher).
Charity: Ok, completely cheesy and predictable, I would have to say my Bible. It has so much written in it and I can find anything in it! I don't mean to sound pretentious, but it is the truth. No other Bible will do!! My husband and kids laugh at me because I don't use my iPad for my Bible. boooo. BOOOO!!! I say.
— In a completely pretentious move, although I said I wasn't being pretentious….I PULLED THE BIBLE CARD, SO I WIN THAT ONE!
FINAL SCORE:
Charity 2/ Karen 3
Thank you, SO MUCH, Karen! I had a great time getting to know you and look forward to the release of your next book, A Worthy Pursuit
, on May 26th.
Head on over and get these great reads!!!